Welcome to our Spring Declutter Challenge which kicks off on Saturday 23rd of September.  All you need is 30 minutes a day (60 minutes if you can) to declutter and refresh as many of those potentially 'unorganised' or 'cluttered' spaces in your home. Good Luck!
Day 1- Drop Zones
These are the places where we leave things such as paperwork or bills to attend to at a later date such as the kitchen bench or a drawer in the kitchen or office. So here's our 3 step process to quickly clear this area:
Step 1 – Spend 30 minutes going through old paperwork or bills and decide whether you need to keep them anymore.
Step 2 –  Throw away/shred anything you no longer need and recycle old newspapers and junk mail.
Step 3 – Think about whether you could organise the space differently by using different storage options like a magazine file for paperwork, intray or a box to keep all the incoming bills and mail in.
Officeworks has a great range of magazine/file holders in beautiful colours! Check out their full range here.

Day 2 – Fridge Declutter
What is lurking in the back of your fridge? Today is the day to go through, shelf by shelf and take out all the items, check the used by dates and throw away anything that's out of date. Then, do a  deep-clean of the interior of your fridge with warm soapy water to wipe out any residue or spilt food you might have missed. 
Spring Decluttering Challenge Tip # 1: Baking soda is known to catch and absorb odours so fill up a little bowl and pop it in the fridge too.
Next, place food back in the fridge once checked and remember to keep a list of things that were thrown out and you need to replace.
Spring Decluttering Challenge TIP #2: Create an "Eat me first" section. This works well to reminder you to eat food items before their expiry dates. It's also handy to keep them at eye level, so they are easy to spot. Don't forget to store items in air-tight containers too as this will keep them fresher for longer. And remember to give the outside of the fridge/freezer a good clean as well.
If you get into the habit of doing a quick wipe out of your fridge each week, before you pop all your fresh weekly shopping in there, you'll find it cuts down on this cleaning time.

Day 3 – Bathroom Declutter
Spend 30 minutes going through your bathroom drawers, cupboards and throwing away anything that you no longer use. Pay particular attention to your makeup drawer or makeup storage area and if you have time to give the makeup brushes a wash, even better!  Don't forget to give the drawers and cupboards you've decluttered a good wipe out as well.
How long should you keep makeup for? 
Here is a list of common makeup products and their suggested expiry dates as recommended by Choice. To read the full list from Choice, click here.
Eyeliners and pencils:Pencil eyeliners are a typically wax-based product and should have no bacterial contamination but keeping them sharpened will help to keep them clean.
Face and body moisturisers:Unopened, three years. Opened, six months.
Hairstyling products:Three to five years. Most use alcohol in the formulation, which acts as a preservative. If non-aerosol and no alcohol is listed on the label, then treat as shampoos (see below).
Lipstick and gloss: Unopened, five years. Opened, 12 months.
Makeup foundation:Unopened, three years. Opened, six months.
Mascara and liquid eyeliner(brush in vial): Unopened, three years. Opened, three months.
Nail polish:Unopened, three years. Opened, six months.
Nail polish remover:Useable indefinitely.
Oils and serums: Unopened, three years. Opened, six months.
Perfumes and aftershaves: Unopened, five years. Opened, 12 months, for best composition. For best longevity, keep them in a cool place away from bright, direct light.
Self-tanning lotions: Unopened, three years. Opened, six months.
Day 4 – Wardrobe Declutter
A spring declutter challenge would not be complete with getting in and tackling your wardrobe. Now, you are probably going to need more than 30 minutes on this declutter though.
Start with the hanging section in your wardrobe first and go through item by item. Do you have items that you have not worn in the past 12 months. Perhaps you need to ask yourself the following question – If someone asked you to attend a party, function, coffee catch up or work function – would you wear that item? Consider giving the item to charity or a friend who might make use of it if you don't think you will wear it. And, if you are holding onto an item because it was expensive, then consider selling the item on a platform such as Facebook Marketplace or a luxury second hand clothing retailer.
Next, put things back in the wardrobe and group like items together and colour block them i.e., put all white shirts together and so on.you can do the same process for your folded items too.
Spring Decluttering Challenge TIP # 1 Bag up all your unwanted items and pop them straight in your car ready to drop off at our local charity. The last thing you want is them making there way back into your wardrobe!
Now its onto your underwear and sock drawer to see if there is anything you can immediately throw away based on the condition of the item. You could also look at utilising some storage containers to help keep items more organised if you don't already have containers. And if you live in a sunny location, perhaps its time to remove big heavy jackets or winter clothing items that won't be worn till next year. You could pop them in a space bag and store elsewhere and rotate your wardrobe making summer items more accessible.

Day 5 – Spring Decluttering Challenge – Pantry Declutter
One of our favourite areas of the home to organise. Given we use this area every day, it makes sense to have a well organised and functional space.
Step 1 – Start by removing everything and checking the use by dates on all food items and throw away anything out of date.
Spring Decluttering Challenge TIP #1. Don't forgot to start a list of items that you need to replace. There's nothing worse when you are halfway through cooking something and you realise that you threw that ingredient out last week.
Step 2 –  Next, identify items that you don't think you will use and bin them.
Step 3 – Wipe out your pantry with warm soapy water and dry thoroughly.
Step 4 – Finally, set up zones or areas in your pantry, grouping like items together and put items that you use the most at the front and easily accessible.
Now is also the perfect time to think about better ways to store and display pantry items. Consider purchasing some containers to help you sort them into categories. Plastic tubs, baskets or Lazy Susan's are great to help keep things organised.  And, if you don't have labels on your containers, then now is the perfect time to pop some on.

Day 6 – Garage Spring Declutter Challenge
Often we place items in the garage that we no longer need or use inside the home, and they stay in the garage for years or until we move house! So know is the time to go through big items that are taking up valuable space and think about whether you will ever use these again or whether family members have outgrown them. You may be able to sell items like extra furniture, kid's bikes, scooters or ski gear that has been outgrown. You can also check out your local Facebook pages for groups like "Buy, Swap and Sell", "Buy Nothing" or "Things for Free". Otherwise you might be time to organise a hard rubbish collection.
For more garage organising tips, check out this blog.
Day 7 – Laundry Declutter
Usually the laundry isn't too bad, unless the laundry/utility room is your dumping ground for things that don't have a home or place to put them. Spend 30 minutes removing anything that doesn't belong in there and make sure it's put back into a place with other like items. Now its time to give the washing machine seal a good wipe out. The dirt that disappears from your clothes, towels and sheets has to go somewhere! Your washing machine might also harbor leftover detergent, hard-water deposits and mildew around the lid. That means grime can build up inside your washing machine over time.
To ensure your freshly washed clothes and linens are as clean as possible, follow these steps on how to clean a washing machine. These instructions work for cleaning front-loading and top-loading washing machines, but it's worth checking if your particular brand has any special requirements.
If your washing machine has a self-clean function, choose that cycle and follow the manufacturer's instructions to clean it. If it does not, then follow these steps.
Step 1 – Run an empty, regular cycle on hot, using two cups of white vinegar instead of detergent which you add to the detergent dispenser. And don't worry about harming your machine, as white vinegar will not damage clothes. The hot water-vinegar combo removes and prevents bacteria growth. Vinegar can also act as a deodorizer and cut through mildew odours.
If you have a top-loading washer, you can pause the machine during the hot-water cycle. Allow the tub to fill and agitate for about a minute, then pause the cycle for an hour and let the vinegar soak, then empty. You could also add some lemon juice to the water.
Step 2 – Wipe down the machine's exterior using a damp cloth and the vinegar water solution. To prevent Mold or mildew growth, leave the door open for a few hours after each wash to let the moisture dry out.
Step 3 – Do a deep clean and use a toothbrush to scrub hard-to-reach spots around the lid and under the rim of the tub. And don't forget your dryer. Wipe over your dryer especially where lint can accumulate.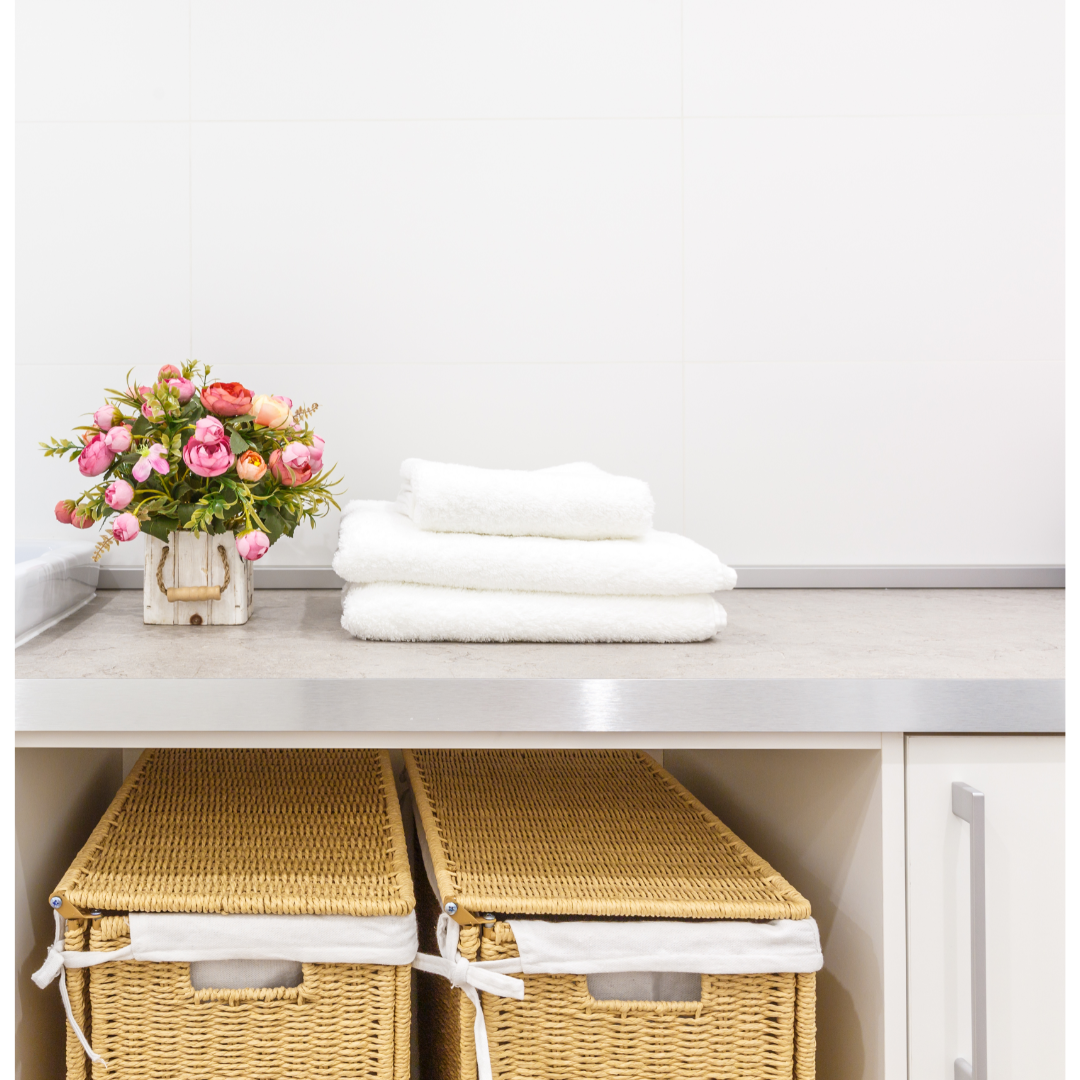 We hope that our Spring Decluttering Challenge has been useful. For other great home organisation, decluttering or styling tips see our other BLOG articles.