Having an organised pantry is essential. It's a space you use numerous times a day so it needs to be setup right. You need to have different zones for your food, the right containers and a layout that works for the space So, here's our top tips on how to organise your pantry.
Take everything out.
Remove all the items from your pantry, one shelve at a time.
Discard any out-of-date food.
Don't forgot to start a list of items you need to replace.
Clean your pantry.
Using hot soapy water, wipe out each shelve.
Group like items together.
Put all your cereals together, your baking items together etc.
Choose your containers.
It's a great time to replace any old containers or streamline your panty look and buy all matching containers. Clear containers are always best in the pantry. You just need to decide if you want plastic or glass ones. Don't forget to wash out your new food containers before you decanter food into them.
When choosing the right type of container for your space, think about how they will stack together. Do you want square or round containers?  You might find that square containers stack better and therefore make the best use of your space. Just make sure the lids seal really well too.
Setting up your pantry in zones.
When putting everything back into your pantry, think about the different areas and what you use the most. Items that you use all the time, like breakfast cereal should be easily accessible at the front.
Label, label and label.
Don't forget to label the food containers too. You can also label the shelves so everyone knows what items belong on what shelves. We often use custom made labels for our client's pantries. You can choose the colour, font and shape. The look great and the labels last longer too.
Use baskets and tubs.
Baskets or pull out tubs are really useful to store bulky items in. Canned food can be stacked on tiered shelving, soup/packet mixes can be stored in pull-out baskets and spices in a spice rack.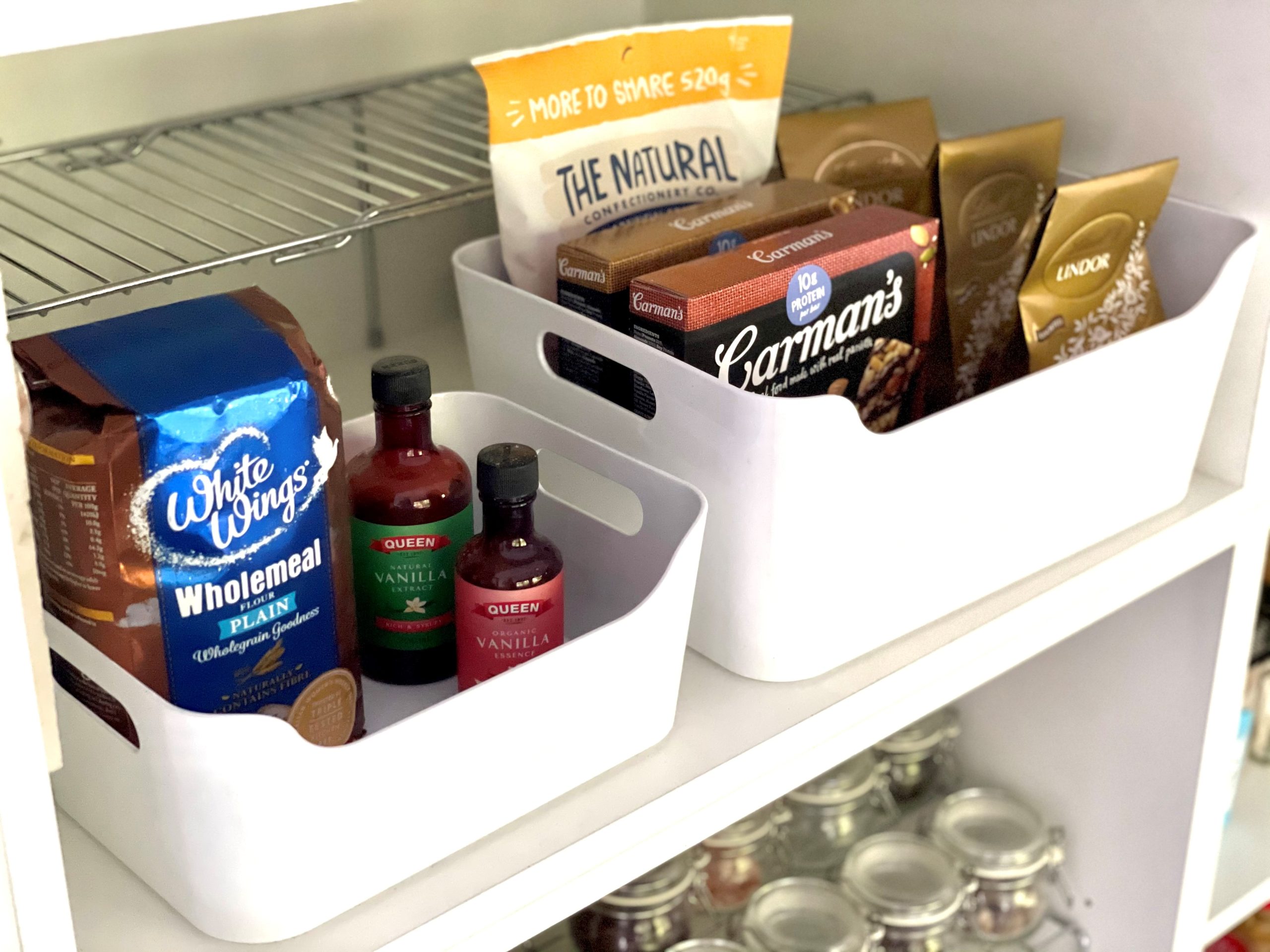 Create extra storage space.
We regulary get asked how to organise your pantry. As part of the organising process you should also look at how you can create more space as well. Can you create more storage zones by installing racks on the back of your door to store gladwrap, tin foil or paper towel on? For items that you don't use regularly, think about storing them in tubs or containers either down the bottom or up the top of your pantry.
Once your pantry is neat and organised you will find that you waste less food too. You will be able to see what you have in your pantry because nothing is hidden in the back of your pantry. Plus, you won't be knocking over the soy sauce bottle to reach your breakfast cereal because everything will be accessible.
Want to get your pantry organised? Then contact us. We love pantry's.