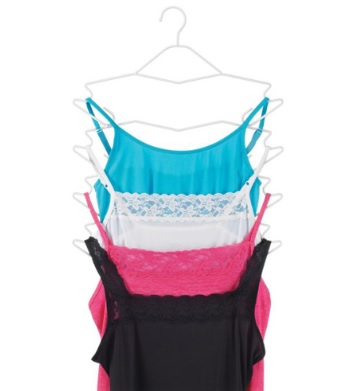 Hickson Hanger
Do you have clothing items you don't wear just because you can't find them in your wardrobe? Are you sick of trying to find a matching bra for your dress or top? Are you running out of hanging space? If you answered yes, then we have got the right hanger for you.
The multiple-garment Hickson Hanger will keep your wardrobe organised and saves you precious time.  Fit up to 8 items on 1 hanger.  Cost: $10.00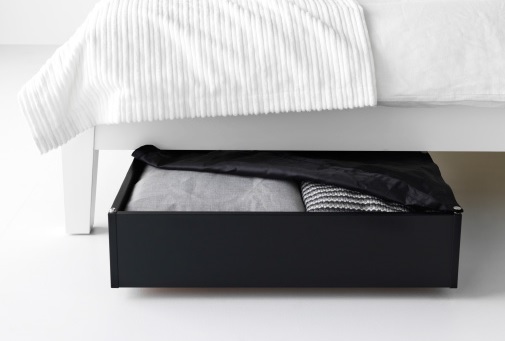 Under Bed Storage
Need more space to store stuff? This bed storage lets you keep things like duvets or winter clothes in under bed storage boxes or in a storage unit at the foot of your bed. So your things stay out of the way but still close at hand.  Cost: $39.95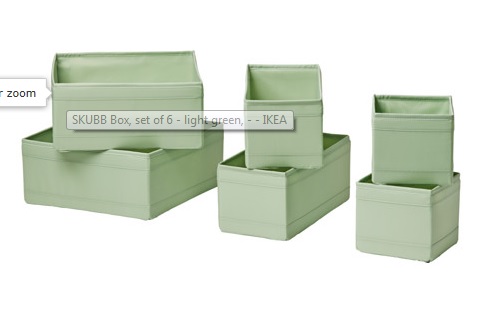 Skubb Storage Boxes
If chaos is king inside your drawers or wardrobe, the SKUBB storage series puts you back in charge. The boxes and hanging organisers come in different sizes which means you can divide your clothes, shoes and accessories so you find everything fast. The boxes also fold flat when not in use so you can store them away easily. The come in a range of colours including white, black, light green and pink.   Prices range from $9.99.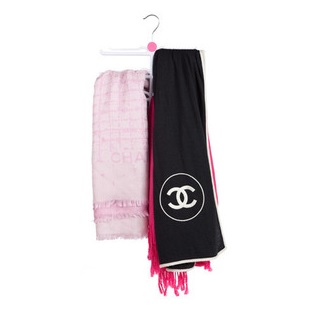 Scarftastic
A two in one product which holds all your scarves or holds all your ties for him.
The Scarftastic has 8 rows to hold over 20 scarves or more than 40 ties.  Cost $12.00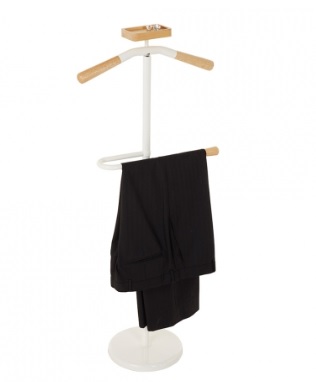 Valet
As a professional organiser I cannot help myself. I like to get my clothes already and ironed the night before work so I'm all organised in the morning. This little number is perfect for this. Keep your suits crinkle free and in ready-to-wear condition with this Valet.
The hanger is designed with its sturdy in-built coat hanger at the back for jackets and a rail for pants to drape over. Neat and petite this handy all in one hanger  looks elegant in the corner of your master bedroom, guest room or office. Cost: $99.00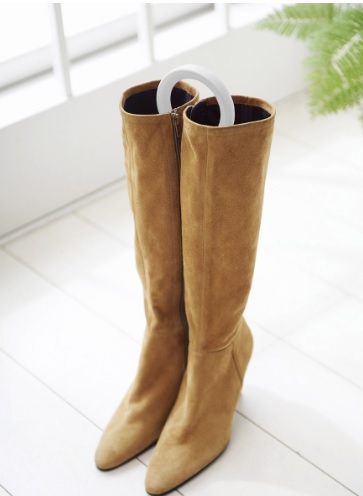 Boot Keeper Clip – White
As experts in wardrobe organisation we know that shoe storage can make a difference to your life; and now it's easy to preserve your boots and keep them next-occasion-ready thanks to the Boot Keeper Clip.
Use the Boot Keeper Clip to keep your prized winter shoes upright, in-shape and wrinkle-free. When you're not using your boots, simply hang the ring on a doorknob or store them neatly in the base of your wardrobe! Whether you store your shoes in your wardrobe, the garage or at the front entrance to your home, the Boot Keeper provides a clever, easy to use space saving storage solution. Cost: $14.95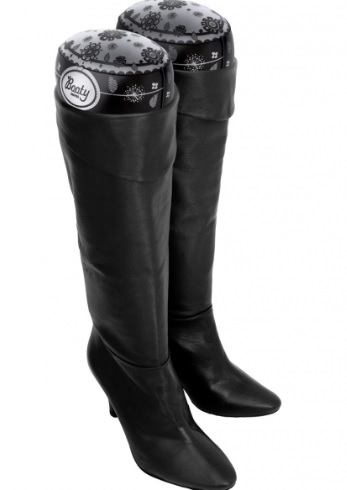 Inflatable Boot support
As another alternative, Booty Shapers are an inexpensive and simple way to preserve your investment. Don't leave boots bending and crumpled at the bottom of your cupboard or tossed into a corner.
Inflate the inserts to keep boots in shape when they're not being worn. It's that simple. They are also a great travel accessory as they prevent your boots from getting squashed in your suitcase and they are reusable and ideal for summer storage. They contour to shape the boot but won't stretch the leather and best of all, it keeps your wardrobe neat and organised. Visit Howards for more details. Cost $9.95