Save Time and Get Organised With a Weekly Menu Planner
If you are struggling to plan weekly meals then this menu planner is perfect for you. This menu planner is a great resource and will save you lots of time and help you get organised for the week. It will free up your time to do the things you love.
7 Day Meal Planner
The 7 day Meal Planner has room for breakfast, lunch, dinner and snacks. Use it as a family meal planner, plan for healthy meals, specific allergies and more. The planner will save you lots of stress. Once you've planned the meals for the week you can use the "Shopping List" to list down the groceries to buy and head to the shops. For more information on the Otto menu planners click on this link: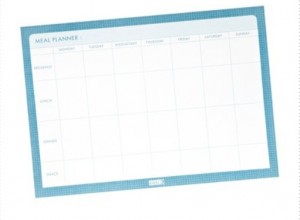 Remember, to keep the weekly menu planners after the week has finished. They can be re-used every couple of weeks, which saves you even more time. If your kids think they are mini master chefs, then get them to do a day or two of the menu planning. They could also help with the shopping or preparation of the food. If it's their great idea, they are more likely to eat the food.
As professional organisers, we love anything that saves us time and stress. We hope that you find this handy meal planner useful.
Until next time, happy organising.
Natalie Morey, Professional Organiser