If you've spent any time in a disorganised man cave or a messy garage (aka Dad's domain) you will know how helpful a little organisation can be. Here's 6 ways to help declutter your garage.
Image credit: Bunnings.com.au
1. Clear the clutter in your garage
Start the garage declutter process by grouping items into the following categories:
2. Group similar items together
Now that you have decluttered the garage it's time to group and store the various items together.  If you have a lot of different size nuts, bolts, nails etc., then put them into either small plastic containers with lids or clear boxes with different compartments. They come in lots of different shapes and sizes and you will find a container that is perfect for all of your stuff. I guarantee it will make finding the right size screw so much easier next time.
Image Credit: https://www.masters.com.au/product/100797002/really-useful-box-0-3l-box-16-drawer-set-clear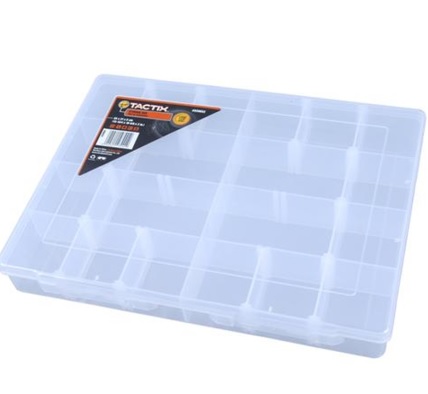 Containers with compartments – great for the garage
Image Credit: https://www.bunnings.com.au/tactix-20-compartment-organiser-storage-box_p2581003
3. Label it
Now that all your bits and pieces are grouped together, take the garage organisation one step further and label up the shelves and containers so you know where everything belongs.
4. Set up zones in your garage
Set up different areas (zones) in your garage to store things. For example put all your garden tools and equipment together in one area/shelve.
Peg boards like this are the perfect way to keep tools organised and off the workbench. Alternatively, you could place them underneath the bench. By making specific areas to put different items in it creates a more organised garage which in turn makes it so much easier to find things.
Image credit: http://wonderfulengineering.com/40-awesome-ideas-to-organise-your-garage/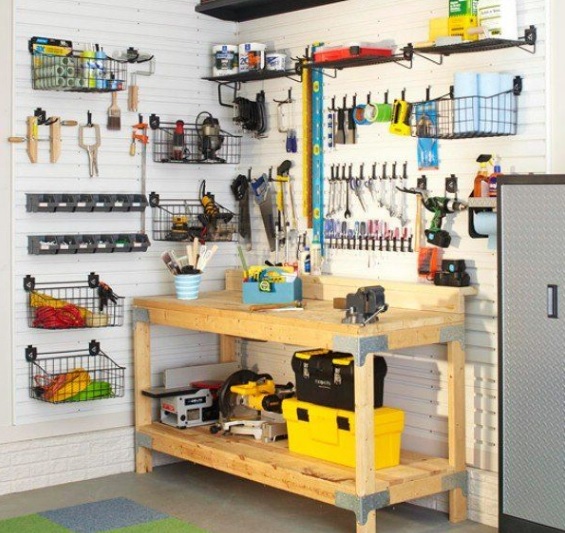 Organised tools
Image credit: http://wonderfulengineering.com/40-awesome-ideas-to-organise-your-garage/
5. Shelve it
You can buy different sorts of portable shelves that are easy to install and will provide extra storage space. They are also portable so you can take them to your next garage and you can make them into different configurations such as a low work bench or high shelves.
Image credit: https://www.bunnings.com.au/our-range/storage-cleaning/storage/garage/shelving
6. Create space by hanging items
If you need to store things like bikes, fishing rods, long pieces of timber or pipe you can use a range of hooks secured from the ceiling. It gets everything off the ground and keeps your work benches and floors clutter free. Or store large tools with a unit like this.
Image Credit: https://www.bunnings.com.au/storease-large-tool-hanger_p2580042
Or try this wall mounted bracket to hang your fishing rods from.
Image Credit: https://www.bunnings.com.au/storease-15kg-wall-bracket-fishing-gear-hook_p2582761
I hope that I have given you some inspiration with my 6 ways to help organise your garage. Set aside a weekend, be prepared to get down and dirty and do some serious decluttering and get your garage organised.
A unique gift for Dad – A garage declutter
Instead of giving another boring tie or DVD give a gift that is a little more practical. Dad's love gifts that they can use over and over again. And, if it means every time they walk into the garage it looks schmick and organised and they can find their stuff, they will love it. A garage declutter is a perfect Father's Day, Birthday or Christmas gift.